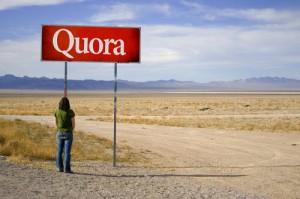 In a world of twitter, twellow, bebo, cloob and fotki, there possibly couldn't be any use for Quora. Turns out I am wrong.
Quora.com, a website founded by two former Facebook moguls, has been buzzing in the world of media gurus lately due to its community-driven Q & A repository. Deemed a "social network for knowledge" on its website, Quora is a fresh take on an old idea.  It lets you post questions and answers on any topic and search for ones that have been posted already. There is no dumb question, but there are dumb answers. But, as always, the good ones pop out while the horrible ones are shoved to the back.  When I created my account, I noticed a lot of factual questions about how much Kanye West makes to a lot of philosophical questions like what is love? According to a recent Mashable.com article, there are nine ways to utilize Quora for what it's worth. Here are the top five!
Strengthen customers' experience: Talk about your name or company on Quora and monitor who is talking about it as well. Follow your name or company as a topic and respond to people's questions that are asking about you. Respond to the concerns, criticisms and give feedback to keep a following!
Research your competition: Learn about your competition. See what they are up to and what people are saying about them. Remember the saying, "Keep your friends close, but your enemies closer!"
Connect with journalists: Find reporters and market your ideas. Remember, by connecting with others, you are creating your name!
Embrace long-form dialogue: No more 140-character limit! Expand and write out your thought process…..Be creative! Just don't ramble.
Mine for hot topics: Find what is hip, new and exciting! The Quora network lets you keep on top of your game!
For more tips, go to Mashable.com or Quora.com.
Happy reading folks!